Enjoy an Aperitivo Cocktail Like a True Italian
Nothing says Italian vacation like enjoying an aperitivo in your best vacation outfit in a beautiful piazza at golden hour in Rome (or any other Italian city!). If you're used to drinking a beer at happy-hour, we highly recommend you take your Italian vacation to mix things up. These five drinks are all available almost anywhere you choose to imbibe in the city and will switch your mindset from after-work drinks to full-on vacation mode, living La Dolce Vita.
Print this list out or screenshot it on your phone to make sure you try all five on your trip! Bonus, the scene at Italian aperitivo hour is typically completely child friendly, so bring the kids along too. Find a place that has outdoor seating and let the kids soak in the magical streets of Rome while you enjoy a little pre-dinner adult beverage.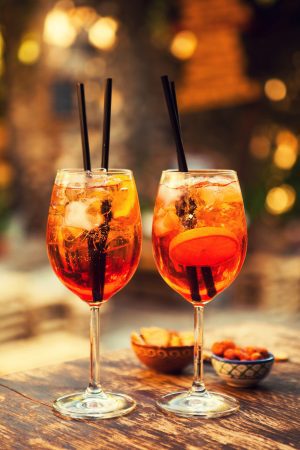 1. The Aperol Spritz
At this point, this orange drink is globally iconic, thanks to a very good marketing scheme from Aperol and the drinks stunning colors, which makes it perfect for Instagram and your vacation photos. The drink is simple, tasty and refreshing. Aperol is a sweet but herby, slightly bitter liquor that's mixed with prosecco (sparkling wine) and soda water. Top it off with a beautiful slice of orange (or a green olive if you're in Northern Italy) and enjoy!
2. Campari + soda
This light and refreshing drink is classic Italian, all the way. Hint: there are two ways to enjoy this in Italy. First, you can order the classic little bottle at most bars and pour the pre-mixed drink over ice. If you're feeling a tiny bit more DIY, order a Campari bitter with soda water. A shot of Campari will be poured over ice with a splash of soda on top to finish it off. Enjoy it with a slice of orange for the full experience.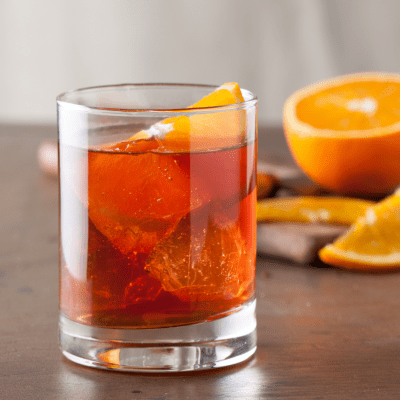 3. Americano
 The upgraded version of Campari soda has also been around longer. The drink was first served in the 1860s, right after Italy's unification. It originates from Milan, where it was served at Gaspare Campari's bar (yes, that Campari). It combines Campari (shocker, right?), sweet vermouth, and soda water and is typically garnished with an orange and served over ice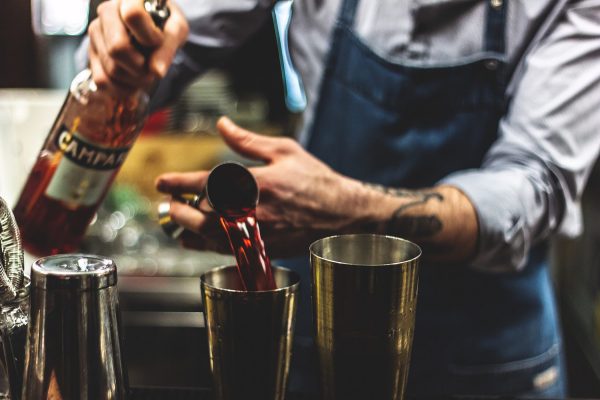 4. Negroni
 For the heavier drinkers out there, or just a general cocktail connoisseur, a negroni is always a good idea. This classic Italian cocktail mixes one part gin, one part Martini Rosso, and one part Campari. The story goes that in 1920, a sassy Florentine count, Camillo Negroni, asked the bartender for a stiffer drink than his usual Americano. The bartender replaced soda water with gin and voila, he named his creation after it's inspiration. The result is a deliciously bitter yet slightly sweet drink that packs a big punch since it is all alcohol, minus the ice. We definitely recommend a big aperitivo with this one.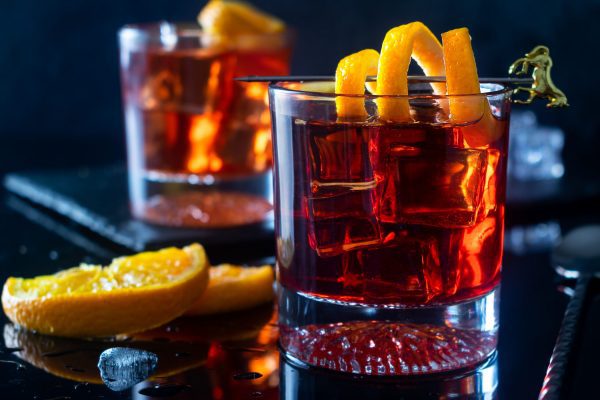 5. Negroni Sbagliato
Maybe the idea of starting the evening off with a negroni feels a little too heavy after a day outside touring and exploring Rome.  A negroni sbagliato literally means a "mistaken" negroni, or a 'wrong' negroni. This variation of the cocktail was born when a bartender, not too long after the invention of the negroni accidentally added sparkling wine instead of gin to his creation. The variations of this combination do feature heavily in this article, which of course leads us to believe that the Italians have hacked the code on how to have happy-hour (aperitivo) drinks and still be excited to eat a three (or four or five) course Italian meal afterwards.