How To Get Around Rome Using Public Transportation
What kind of public transport is there in Rome?
Rome's public transport system is a network of services including subway trains (metro), trams, busses, and light rail.  All services are provided by one company called ATAC.  This means that for one very cheap ticket you can access the whole public transport network.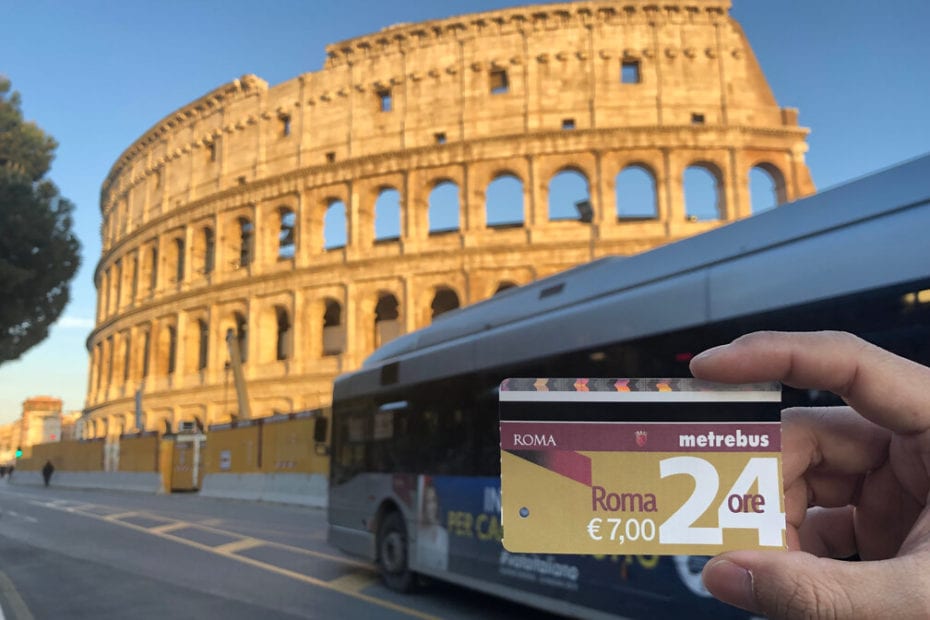 How much does a ticket cost and what kind of ticket should I buy?
There are a few options you can choose from when buying a transport ticket in Rome. Those of you travelling with children may note that on Rome's public transport children under 10 are free when accompanied by an adult. 
Standard Single 100 min Ticket: This ticket costs just € 1,50 and allows you to travel for 100 minutes after it has been validated.  You may make as many bus and tram connections as you like in that 100 mins, however, once you leave a metro station you may not enter another on the same ticket.


24 hour Ticket: We don't recommend this ticket.  It costs € 7,00 and expires at midnight on the day you purchased it (not 24 Hours later).  To make the 24 hour ticket worth while, you would have to make 5 trips all more than 100 mins apart.


48 hour Ticket: Again we don't recommend this ticket for the same reason as the 24 hour one.  This ticket costs € 12,50


72 hour Ticket: At € 18,00 the 72 hour ticket gives the impression that it is good value for money.  However, the ticket expires at midnight on the third day so if you purchased your ticket late on day 1, you lose most of that third day.  At this point you might consider a RomaPass instead.


Weekly Ticket: Poor Value for € 24,00.  You would have to travel more than twice a day to justify the cost.  The same issue as the 72 hour ticket applies in that unless you purchased the ticket early on day 1, you are getting cheated out of half a day or more.


Monthly Ticket: If you are planning on staying in Rome for a while, this ticket is a good one to consider.  At just € 35,00 this ticket is a bargain for regular public transport users. The only catch is that the ticket runs on a calendar month.  Meaning, if you buy a monthly pass on the 18th it will expire on the last day of the month.


RomaPass: 2 or 3 days of unlimited public transport in Rome and free entry to two museums (with some exceptions) makes the RomaPass an option to consider.  For more information check out the

RomaPass

website.  (Disclaimer: unless you plan to fully utilize the access to museums and frequent public transport rides, this can also fall flat in value for the money)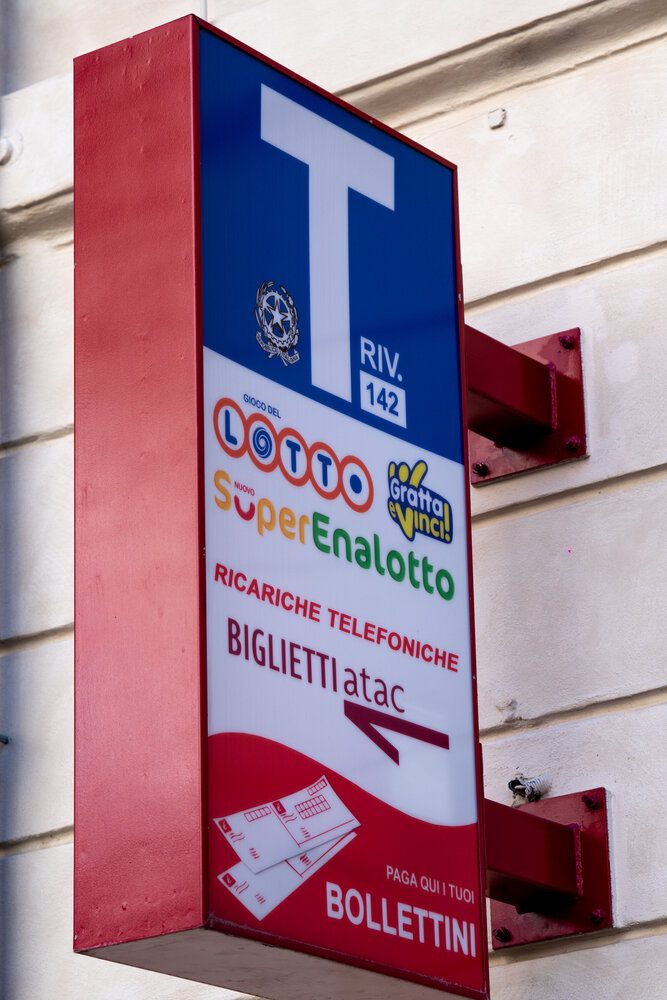 Where can I buy tickets for Rome's public transport?
Buying a ticket is simple.  Every metro station is equipped with ticket machines.  You may choose from several languages indicated on the screen by the corresponding flags.  Select your preferred ticket from the options presented (Standard Single Ticket to Weekly Ticket). 
Pay using CASH.  Even though many of the machines are fitted with credit card slots, most of the time they will only accept cash.  Note: The machines will never give more than € 6,00 change.  For example; you want to buy one Standard Single Ticket for € 1,50 and you pay with a € 20,00 note, the machine will happily take the money and force you to buy € 14,00 worth of tickets before giving you the remaining € 6,00 change.  Many machines now will not accept bills larger than € 10,00. 
Keep an eye out for the unfortunately common "Out of Order" signs on the machine. They may still take your money. 
Alternatively, you can buy tickets at a Tabacchi – tobacco shop – that are clearly indicated with a 'T' sign outside.  Go to the counter and ask for un biglietto (oon bil-YET-oh) for a Standard Single Ticket. 
There are also kiosks around the city in tourist hotspots where you may also purchase tickets for Rome's public transport.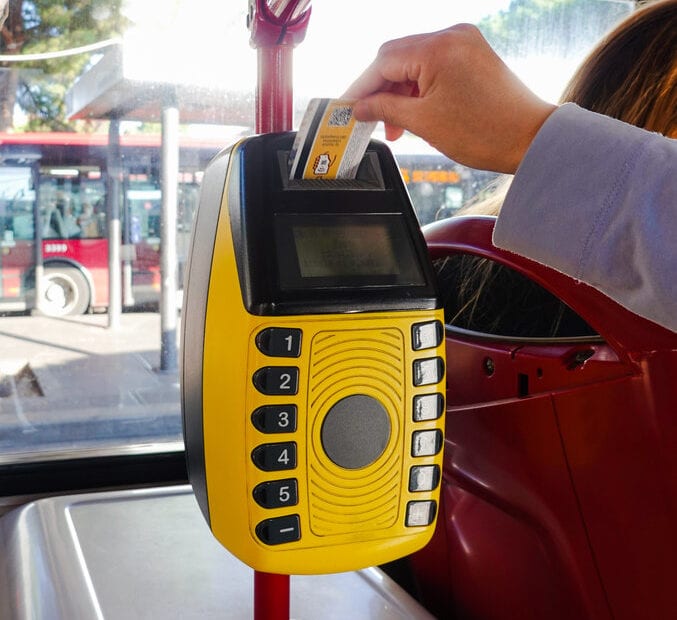 Don't forget to validate your ticket! Your Standard 100 min ticket must be validated on your first trip in the journey.  At the metro stations it is easy, as you pass through the turnstiles your ticket is automatically validated by the gates.  To check your expiry time, flip over your ticket and look at the printed scadenza. 
On the bus or tram lines you must validate your own ticket using the machines onboard.  They are usually located at the front and/or back of the vehicle.  If your bus or tram is particularly crowded, you can wave your ticket in the direction of the machine and some friendly commuter will help you out. 
If you don't validate your ticket you may incur a hefty fine of up to € 150,00.  Trust us, pleading the innocent and unaware tourist argument will NOT help you. 
The easiest way to plan your public transport route in Rome is by using the Moovit app.  The app is regularly updated with any delays or changes to each line.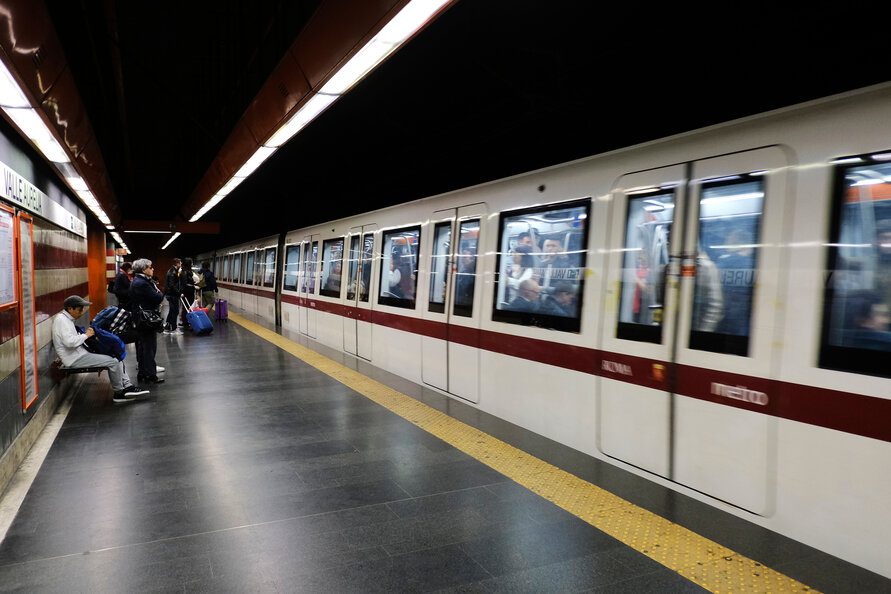 Important things to know about Rome's public transport:
The running times vary on each service. The metro operating hours are 5:30am to 11:30pm on weekdays.  On Fridays and Saturdays the last metro departs the end of the line in both directions at 1:30am.  The bus and tram services run normally from 5:30am to midnight.  There are a few night bus services that supplement the metro and other main lines that run from midnight to 5:00am. 
Rome's public transport is cheap and there are many lines to choose from.  However, the public transport system is subject to regular delays and strikes.  It is important to leave more than enough time to get to your destination if you are using the public transport system.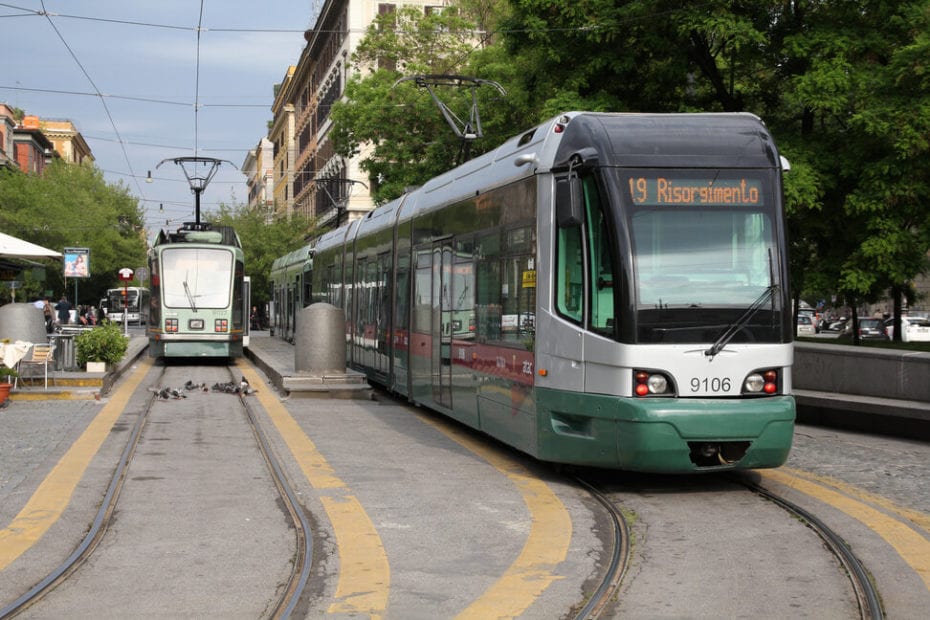 Is the public transport in Rome complicated?
No, not at all!  The metro system is currently made up of 2 main lines (A Line and B Line) in the shape of an X that cross over at Roma Termini.  The third metro line (C Line) intersects with the A Line at San Giovanni and connects the center of Rome to the eastern suburbs.  The C Line is currently under construction; when it is complete it will cross through the center of the city. 
There are 6 tram lines in Rome and they connect to areas of the city that are unreachable by metro.  The tram lines connect Rome's tourists and locals in several neighbourhoods like Gianicolense, Trastevere, Monti, Flaminio, and Prati. 
There are plenty of busses in Rome.  With tens of lines to choose from that carve through the city and out into the suburbs, the easiest way to decide which bus will serve you best is to jump on to the Moovit App. 
Trying to find your way around a foreign city can be a fun but potentially overwhelming experience.  Rest assured that with this cheat sheet, getting around with Rome's public transport will be a breeze.