Planning a solo trip to Rome? Here is everything you need to know to stay safe and get the most out of your trip!
Always wanted to come to Rome and live out your Eat Pray Love fantasy but you weren't sure if it was safe?  Or maybe you thought Rome is more of a romantic couples destination.  Well, I'm here to tell you that Rome is an EXCELLENT destination for solo female travellers.  Gents, there will be some top tips for visiting Rome here but this particular blog is aimed at the girls, Sorry. 
I moved to Italy solo when I was 24 and had travelled to Rome solo before that.  Here is everything I've learned about tackling the Eternal City solo and the best tips and tricks to stay safe on your Roman Vacation(s). 
So here is the big question…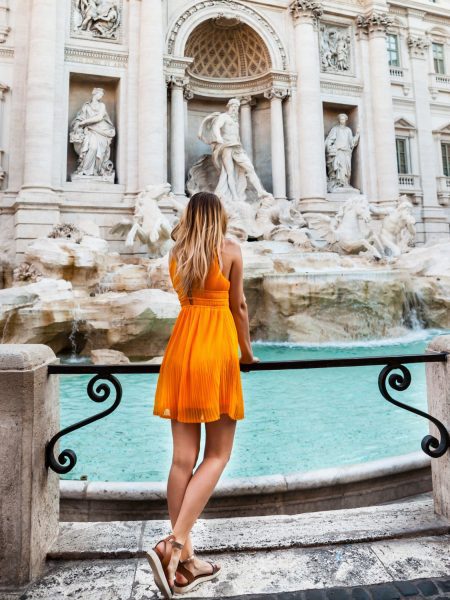 Is Rome safe for Solo Female Travellers?
Short answer: YES!
Now, everyone has heard a horror story from someone that has travelled to Rome.  Pickpockets, scams, sexual harassment and so on.  Look, these things unfortunately do happen on occasion BUT no more so than any other tourist destination or even your hometown.  We will go through some simple ways that you can avoid these things happening to you. 
Tips to Stay Safe in Rome:
For all you frequent solo female travellers, these tips will seem fairly standard but they are worth revisiting to refresh your memory.
Keep Your Valuables Close:
Lock up anything you can safely at your accommodation.  If you plan on riding the bus or metro, and visiting some heavily crowded tourist hotspots (Colosseum, Trevi Fountain, Spanish Steps etc) keep your valuables where you can see them. 
Side bags that you can rest your hand on while you move through a crowd are great!  Try to keep your phones and cash out of your back pockets.  Pickpockets are fast and efficient. They may bump into you in a crowd and hey presto, your phone is gone.  
Invest in a bag with a zip or latch.  They are more difficult for someone to open stealthily. 
If you are using a backpack, you might want to invest in a small lock to keep it closed or simply take it off your shoulders and carry it on your front in big crowds. 
Simply put, if you see someone selling small wears (handbags, children's toys, bracelets, roses etc)  in tourist hotspots they are probably trying to scam you.  These vendors are illegal and if you buy from them you may be fined.  
Keep an eye out for young girls and mothers asking for money on public transport.  There are instances where they will try to distract you in some way while they pick your pockets.  
Always buy tour tickets through official vendors.  Book tours ahead of time!  It is by far the easiest and most secure way to ensure you have the best possible experience with professional guides. 
Sexual harassment is never ok.  Let's make that clear to start with.  However, sometimes when you wander the streets of Rome you may hear that familiar "Ciao bella!" follow you as you go.  
When I moved to Italy from Australia, I noticed that Italian men have almost no subtlety when it comes to looking at women.  It was very off-putting at first until I realised it's largely harmless and not intended to be sinister.  The same thing applies with "Ciao bella!", while forward and somewhat off-putting, it is largely harmless. 
The best way to deal with a catcall in Rome is to ignore it.  Pay them no mind and move on with your day.  That being said, groping or any enduring harassment is NOT OKAY and is illegal.  If you find yourself in a position of severe discomfort – walk into a shop and tell someone, find a bar and speak to the staff,  or approach the authorities (there are many police officers and officials stationed around the city at any given time). 
Another tip: Keep the wines to a minimum. Italy's house wines are awesome and relatively cheap, but they often have a higher alcohol content than what we get at home and can sneak up on you if you're not paying attention. It's always a pro tip to keep the intoxication level to a low when you're out on your own. I know, I know. It's 2021 and we shouldn't have to think about these things but society is a work in progress so it's something to keep in mind.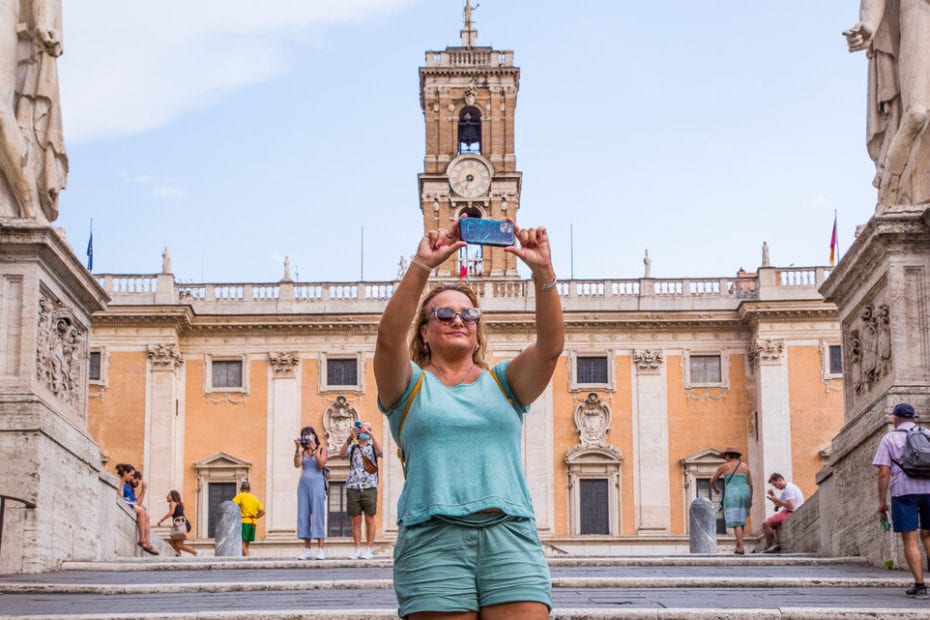 Italian style and day wear is more understated that you might think.  The vibe is effortlessly chic.  You will rarely see an Italian woman in a short skirt and tank top, a tight and revealing dress, booty shorts, or flip-flops.  These are all tell-tale signs of tourists and foreigners.  Think more Audrey Hepburn, less Kim Kardashian. 
Keep in mind, if you want to visit any churches in Rome (which you absolutely should – they are amazing!) you must have your shoulders and knees covered to enter.
Fake It Until You Make It:
Confidence is key. Look like you are meant to be exactly where you are, even if you are lost.  Stay calm, take a quiet moment to find your bearings and get back to it. 
Again, it's about trying to blend in rather than stand out as a tourist.
Don't be afraid to get a little lost.  There is always something cool to see in Rome and you may never find these hidden gems if you follow a map around the city. 
Use your gut instinct.  If you wouldn't walk down a dark alley in the middle of the night in your hometown, don't do it in Rome either. 
There really isn't a "bad" neighbourhood in Rome as such.  However, as with many cities it's best to stay away from the main train stations late at night if you can help it.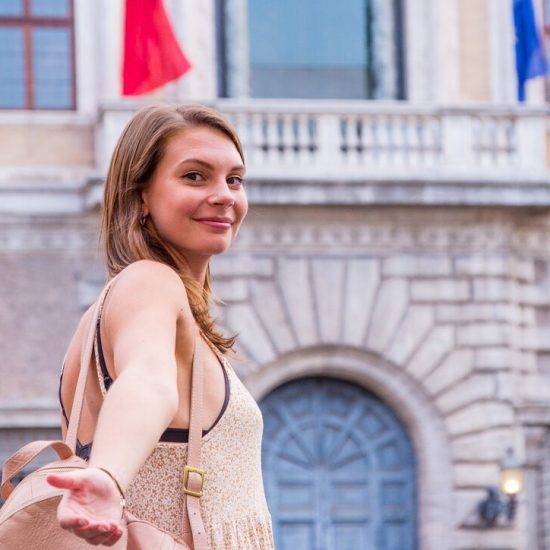 If you've made it this far and you're not convinced that Rome is a safe enough place for solo female travellers, then let me say a few words from my personal experience. 
Everything I have written here has been applicable to every other solo trip I have ever made. Rome is a city made for travellers!  It is a safe and welcoming city to visit and it will steal a piece of your heart to keep here for eternity.  
As with any city in the world it has its moments of weakness but in no way are these minor blemishes a good enough reason to miss out on everything Rome has to offer. 
If you come prepared and know what to expect, there will be nothing stopping you from having the experience of a lifetime. 
Now, I'm going to go for a walk past the Colosseum and down to the Pantheon to get myself a slice of pizza and a gelato – because that's the kind of life that greets you when you come to Rome.