The Lives of the Real Ninja Turtles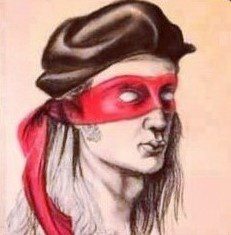 From Orphan to Renaissance Master
In the fourth and final entry of blogs on the real ninja turtles, we will be looking at Raphael. His rebellious spirit not only made him one of the most popular turtles but also one of the greatest and most renowned artists of all time.  
Raffaello Sanzio (Santi) was born in Urbino on the 6th of April in 1483 to Giovanni Santi and Magia di Battista Ciarla. In his very early years, Raphael lived a comfortable childhood in Urbino. It was a wealthy city that prided itself on its culture and artistry. Raphael's father was a painter in the court of the Duke of Urbino and the head of a well-known art studio. Unfortunately, his home life was always mired in tragedy as he was the only one of his mother's three children to survive past infancy. His mother passed away when he was only nine years old. Despite this, Raphael spent his childhood running around his father's workshop, even helping him with some paintings. 
In 1491 he went to study as an apprentice of the great master Perugino in Florence. His time in Perugino's workshop became one of the most important influences in Raphael's life. It was unexpectedly cut short when he was called back to Urbino in 1494 after his father died, leaving him an orphan. 
After his father's funeral, a young Raphael (still only eleven) found himself back in his father's studio, now run by his uncle, with no master to finish his apprenticeship. Raphael, however, continued to hone his craft during an apprenticeship of the lesser-known artist Timoteo Viti. He gained his title as a master at the tender age of seventeen.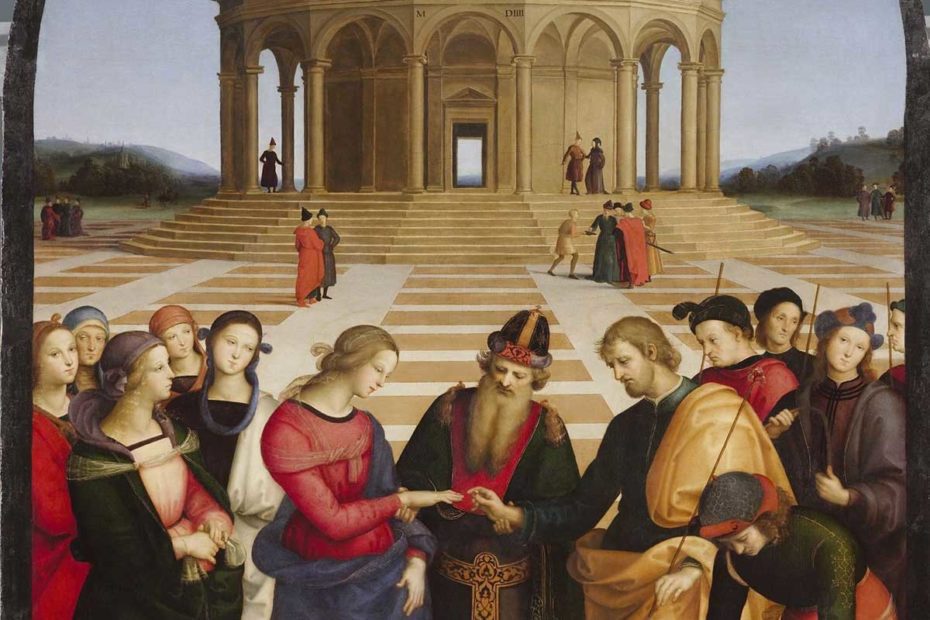 As a master in 1500, Raphael received his first commission, an altarpiece dedicated to St. Nicholas of Tolentino. The altarpiece was for Andrea Baronci's chapel in the church of St Agostino in Città di Castello, a town not far from Urbino. Though little of the work remains today, it was widely recognized as a masterpiece of its time. It helped him receive commissions to paint The Coronation of the Virgin in 1502 and The Marriage of the Virgin in 1504. 
After this relative renown, he was invited to Siena by the painter Pinturicchio to prepare drawings for the frescos in the Libreria Piccolomini. He would not stay there long before moving to Florence in the same year. Florence is where he would stretch his wings. It was here where he found his best influences in his two greatest rivals, Leonardo and Michelangelo. 
In Florence, Raphael met the great Fra Bartolomeo. He persuaded Raphael to give up the delicate, graceful style of Perugino and move towards a more grandiose style, similar to that of Leonardo. Raphael soon began to emulate his composition, gesture, and innovative techniques of chiaroscuro and sfumato to perfection. He learned in moments what other masters had taken years to perfect. There is no evidence that the two ever met but Leonardo became a big influence on young Raphael. Soon he began to formulate his own style, perfecting the ideals of form, beauty, and perspective that masters like Donatello had pioneered.  
In this period Raphael produced various images of the Madonna and quickly gained a reputation for his ease of composition, clarity, and visual achievement. His work encompassed the ideals of the Renaissance, depicting beauty in its highest form.  
In 1507 Raphael started one of his last commissions in Florence painting The Deposition of Christ. It is here that we see the earliest influences of Michelangelo on his work. We see Raphael copying his detail in expressing human anatomy but unlike Michelangelo (and Leonardo) his work shows much calmer and serene imagery. This was much easier to relate to than the dark foreboding work of his rival. Unlike Leonardo, we know that Raphael and Michelangelo did know each other quite well but the relationship was far from easy. 
While Raphael idolized Michelangelo it seemed that Michelangelo hated Raphael. Their relationship would not get any easier when Raphael was called to Rome toward the end of 1508 by Pope Julius II. Despite still being relatively unknown as a Master in Rome his good looks and natural charm, along with his obvious skill soon made him a favorite of the court of the pope. He was soon given the nickname "the prince of painters." 
Raphael spent the last 12 years of his short life in Rome where he produced the bulk of his masterpieces at a rate that was unprecedented in history. The first job he was given in 1508 was to paint a cycle of frescoes in the Vatican papal apartments where Julius II himself lived and worked. These rooms, now known as the Stanze di Raffaelo (Raphael Rooms), can still be seen in the Vatican museums to this day. They would become his most famous works and cement his name as one of the greatest artists of his generation. The most well-known now of these frescos is The School of Athens (1511). It depicts Plato and Aristotle surrounded by philosophers in an architectural setting and illustrates the historical continuity of Platonic thought. It is widely considered one of the culminating artworks of the High Renaissance.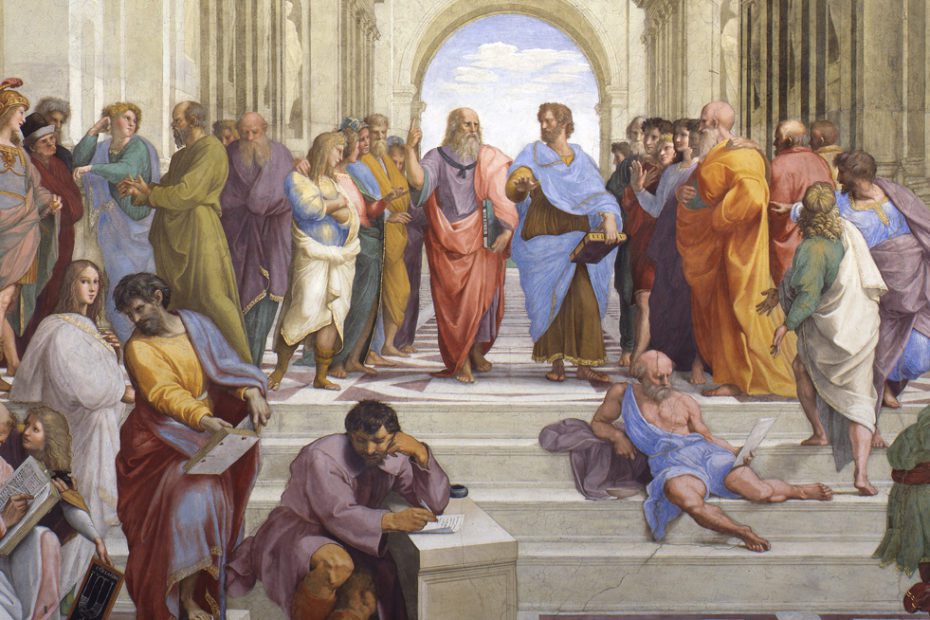 Rivalry With Another Renaissance Master
It is worthwhile to remember that while Raphael was painting these frescoes, Michelangelo was only a short walk away painting his majestic Sistine Chapel ceiling. Michelangelo was always bitter with Raphael. He thought that he was getting the best and easiest of the papal commissions and Raphael did not help the matter much. Raphael famously spied on Michelangelo, bribing a guard to let him see the unfinished first half of the Sistine Chapel ceiling. He also bribed Michelangelo's housekeeper to allow him into Michelangelo's home to study his drawings! This infuriated the ever grumpy and solitary Michelangelo. 
Their relationship was strained further when Michelangelo unveiled the first half of the Sistine Chapel and Raphael begged Julius II to let him complete the ceiling. One anecdote that highlights this tension can be seen when the pair passed each other in St Peters Square. Michelangelo saw Raphael walking past him, surrounded by students and admirers, and called out to him "You go about with a suite, like a general," to which Raphael replied, "And you go about alone, like a hangman." Nonetheless, Raphael's respect was so high for what Michelangelo had done that he chipped out a section of his fresco The School of Athens, and repainted it. He placed an image of Michelangelo front and center, showing him as the Greek philosopher Heraclitus.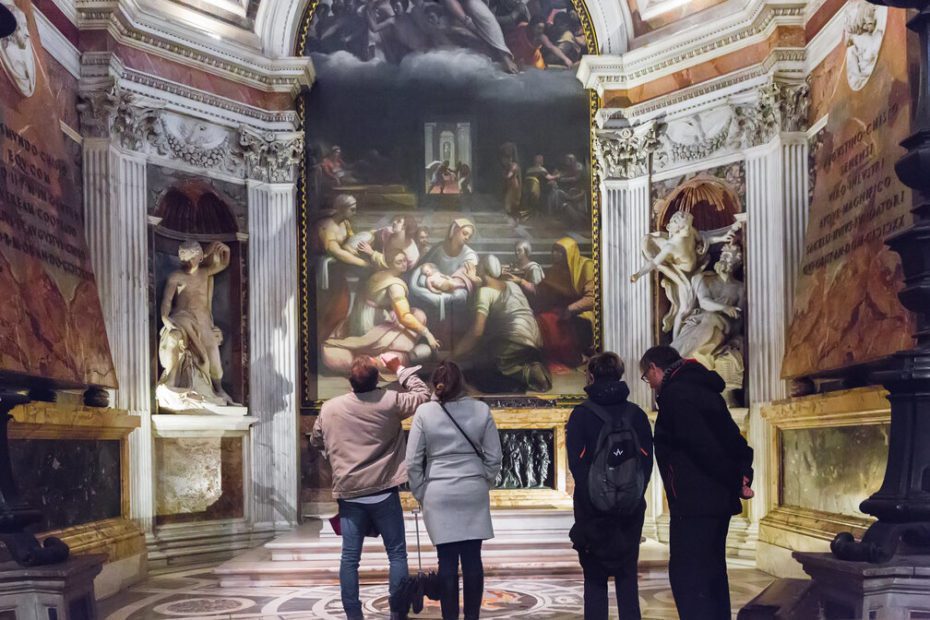 While painting these frescoes Raphael continued to paint enormous amounts of paintings around the city of Rome. He completed several frescoes around the city, continued to pour out Madonnas, and soon gained renown as the most important portraitist in Rome.
After the death of Julius II in 1513, Leo X commissioned Raphael to design ten large tapestries to hang on the walls of the Sistine Chapel. Raphael completed seven of the ten cartoons (full-size preparatory drawings) by 1516, and the tapestries were woven and hung in place in the chapel by 1519. They can still be seen in the Vatican Museums to this day. Raphael also built a reputation as an architect, designing the church of Sant'Eligio degli Orefici. In 1513 the banker Agostino Chigi commissioned him to design and decorate his funerary chapel in the church of Santa Maria del Popolo.
 Raphael's last masterpiece was the Transfiguration. The altarpiece was to remain unfinished at the time of his death (completed by his assistant Giulio Romano) it is considered by many to be his greatest work. The Transfiguration is a complex work of art that combines extreme formal polish and elegance of execution that can be seen in the top half, and it has an atmosphere of tension and violence in the huddled figures of the lower half. It showed a movement away from the traditional High Renaissance styles and was the birth of the Mannerist movement and a move towards a style that could even be called Baroque.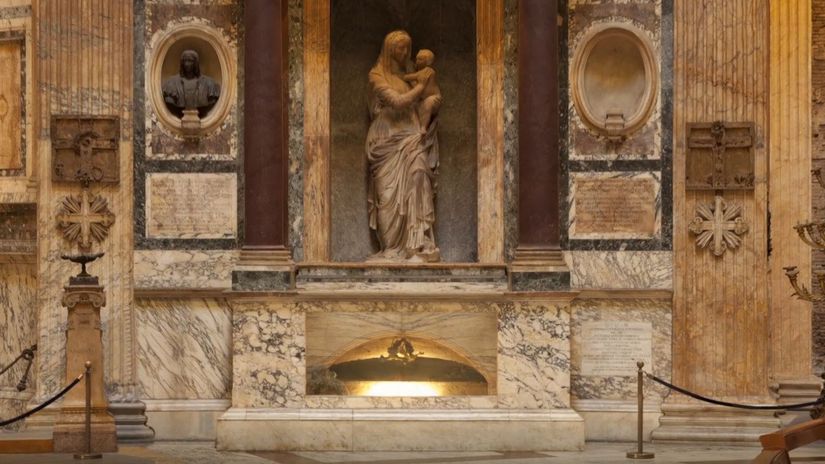 Unfortunately, Raphael died in 1520 on his 37th birthday, days after contracting a fever. Mystery and many rumors surround his death. Many have pointed to his very active private life as the main culprit but in truth, I'm afraid we will never know the actual cause. 
Raphael certainly did have a very active social life. He was incredibly popular and well known about town. He was often found drinking late into the night and partying with many of the most famous beauties of the time but we have no evidence that this led in any way to his death. What we do know is that his funeral procession was one of the largest in history. His body was ultimately laid to rest in the Pantheon where it remains to this day. 
Like his Ninja Turtle compatriots, Raphael lived life with passion and enormous skill. His rebellious spirit will always epitomize the idea of living fast and dying young. Raphael the painter however was an incredibly outgoing and friendly (if a little cheeky) man who was always willing to learn from his elders. He would grow to become known as the artist who most embodied the ideals of the High Renaissance. It is easy to see why writer and philosopher John Ruskin said "The medieval principles led up to Raphael, and the modern principles lead down from him."