A Brief History of Cacio e Pepe in Rome, and Where to Find Our Favorite
Italian cuisine has been revered and imitated throughout the world with every region in Italy having their own unique dishes and flavours. Food has taken over Italian culture and become more of a religion in Italy than almost anything else, and Rome is no exception. For Romans, one the great joys in life is sitting down at a table with some close friends and enjoying some of the many unique and delicious dishes the city has to offer. Today we're going to have a look at what many would call the most Roman dish of them all; Cacio e Pepe pasta, and our favorite place to eat it is Roma Sparita in Trastevere.
The Origins of Cacio e Pepe
Roman cooking is often known as 'Cucina Povera' or poor cooking.  This does not refer to the quality of the food, but more to the simplicity of the ingredients and the unwillingness of Romans to waste anything that can be eaten. This tradition began in the countryside farmers' houses around Rome and has been passed down through generations. It relies not on exotic flavours and variety, but on the quality of the ingredients and the patience and experience of the chef in the cooking times and quantities. With only three long lasting ingredients Cacio e Pepe is the epitome of these dishes. All you need to make it is Pecorino Romano cheese (called cacio in old Roman dialect), pepper and some pasta.  Though this dish may sound simple to make, it can require real skill to cook it to perfection.
The origins of this dish date back to the middle ages (maybe even further) when Roman shepherds would have to carry ingredients in their sacks for the long transhumance (migration). This took place twice a year as Shepherds moved their flocks from the mountain regions of the area down to the lower planes for the winter months or back up for the summer ones. This required days of travel over long distances and it was very hard for the shepherds to get fresh ingredients and they had to carry everything they needed to cook with them. 
Due to their simplicity and functionality, black pepper, hard cheese and dried pasta were never missing from their packs. There was also a more practical reason why these three ingredients melt together so wonderfully; black pepper directly stimulates your heat receptors and helped the shepherds keep warm on those cold winter nights, the hard cheese was a source of protein that lasted for a very long time and the pasta guaranteed the energetic calories and carbohydrates needed for those long walks.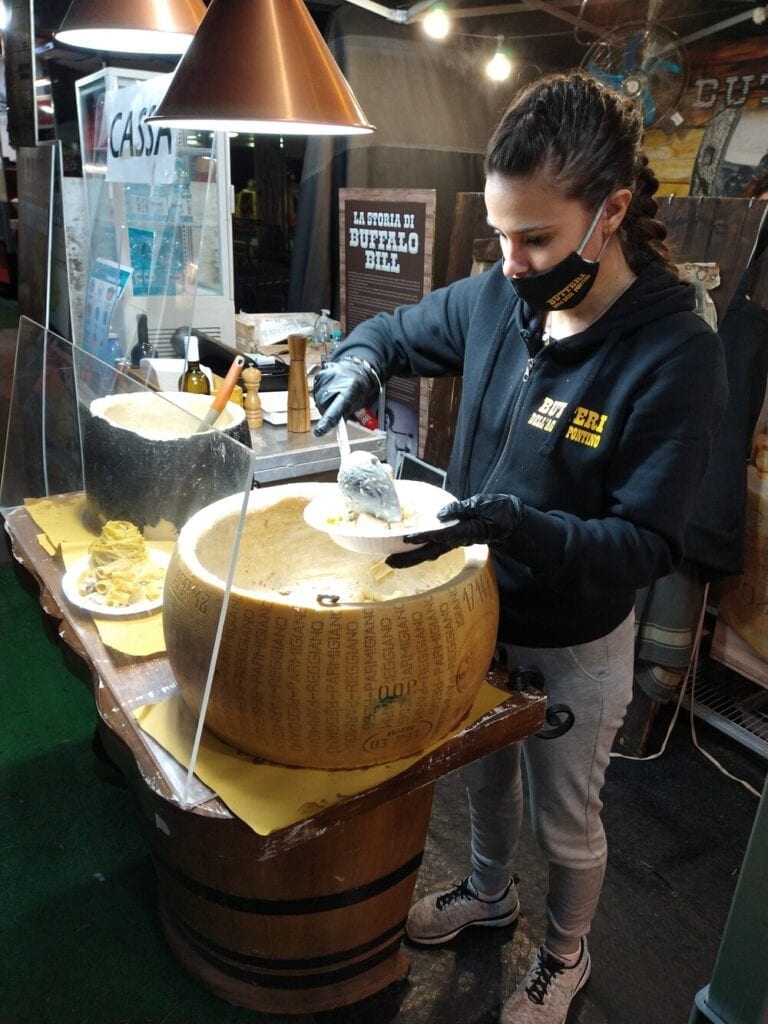 The Mastering of Cacio e Pepe in the Kitchen
It took little time for this dish to spread around the Italian Peninsula and transform from frugal necessity to delicious typical Roman delicacy.  Many taverns and restaurants soon discovered that cooking a Cacio e Pepe 'secca' (dry), by adding more cheese and less water, meant that customers were drinking far more wine to help the dry pasta go down and it was often served that way in years gone by. Luckily flavour has won through and this custom has more or less died out, with dishes now served in a much more rich and creamy sauce.
Like all of Roman culture, Cacio e Pepe is not without its arguments and controversies. Many Italians, still to this day, will argue all day long about which is the better pasta to use and the city is full of restaurants that use all types of pasta (tonnarelli, rigatoni, mezze maniche, spaghetti etc).  With all manner of variations and extra ingredients added, each restaurant is either aiming for traditional style or proudly embracing their own new twist. One thing for certain is that they all claim to have the best Cacio e Pepe in Rome.
The trick with Cacio e Pepe, as we discussed, lies in the cooking and is about patience and technique, getting the balance of water and Pecorino Romano cheese just right so as to get the rich creamy sauce that makes Cacio e Pepe so famous. The pasta has spread far beyond Italy and now you can find restaurants dedicated to Cacio e Pepe from Hong Kong to New York and it is a staple in every self-respecting Italian restaurant around the world. If you are looking to try this true Roman delicacy in Rome itself my personal favourite restaurant for it is called "Roma Sparita".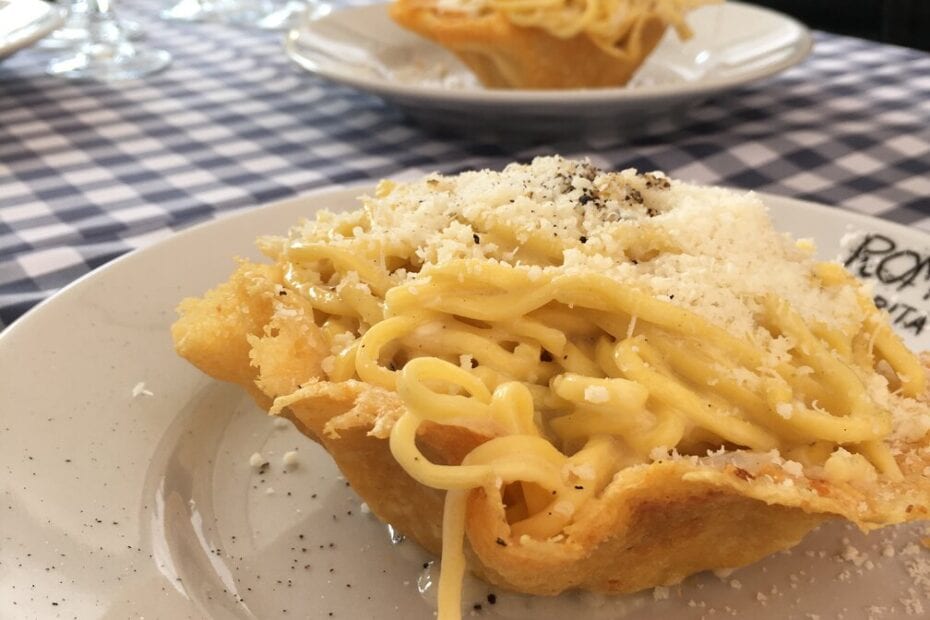 Our Favourite Cacio e Pepe in Rome
Roma Sparita is a picturesque restaurant located in front of the Basilica of Saint Cecilia on the quiet, more local side of Trastevere.  A favourite of legendary chef and food critic Anthony Bourdain, they blend the old with the new by giving you a very traditional, perfectly creamy Cacio e Pepe while serving it in a bowl of crispy pecorino cheese that is both beautiful to look  at and a treat for the taste buds.  In true Roman tradition, they keep the prices low and the quality of the food high. 
The last time I visited Roma Sparita they served up some delicious traditional Roman appetisers including suppli, fried zucchini flowers stuffed with cheese and a delicious cauliflower creation that had me drooling.  The main course and show stealer was, of course, the Cacio e Pepe, and a bottle of delicious local white wine to enhance the entire meal.  Whenever I'm in the mood for Cacio e Pepe, Roma Sparita is where I go, and they never disappoint.  Be sure to give them a try the next time you are looking for a delicious meal.
So whether you like your Cacio e Pepe with spaghetti or rigatoni, in lasagne or with rice, with artichokes or with zucchini flowers everyone agrees that Cacio e Pepe pasta has become a true symbol of the city as iconic as the Colosseum itself.