Experience the Famous Bone Chapels in Rome
Rome is laden with over 900 churches, chapels, and cathedrals, and so it can sometimes be a little overwhelming for travellers to decide which ones are worth a visit. While the likes of St. Peter's Basilica and the Pantheon get a lot of attention, some of the smaller and lesser known Catholic sites are equally impressive and just as memorable. In particular, the Capuchin crypts and church of the Capuchin Friars is definitely one of our favourites and we'd like to tell you why…
Who are the Capuchins? The Capuchin Friars are a Franciscan sect founded in the 16th century who owe their name to the hood or capuche attached to their brown robes. Interestingly, the word cappuccino is named for the espresso-coloured robes of the monks. The lives of the early Capuchins were defined by extreme austerity, simplicity, and poverty; although things may have relaxed to some extent since, the order remains strict.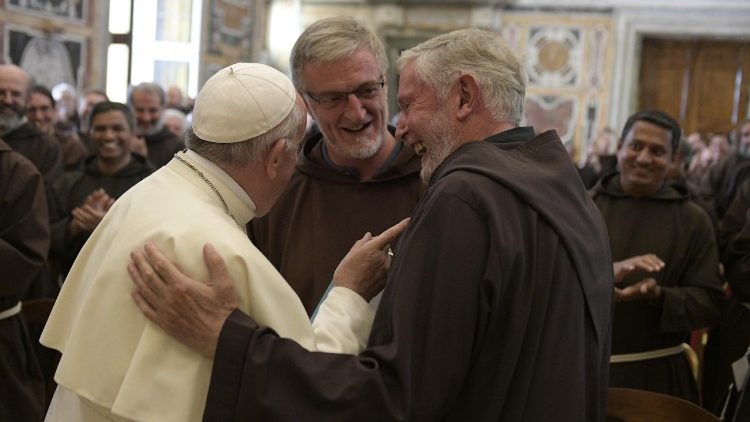 The Church Above the Capuchin Crypt
The Church of Our Lady of the Conception of the Capuchins, located in the heart of town on Via Veneto, is a 17th century church built by Cardinal Antonio Barberini. Cardinal Barberini's brother Pope Urban VIII blessed the church's first stone as it was laid on the Feast of St. Francis in 1626. While the church on its own is impressive, it's what lies beneath that really sparks our interest.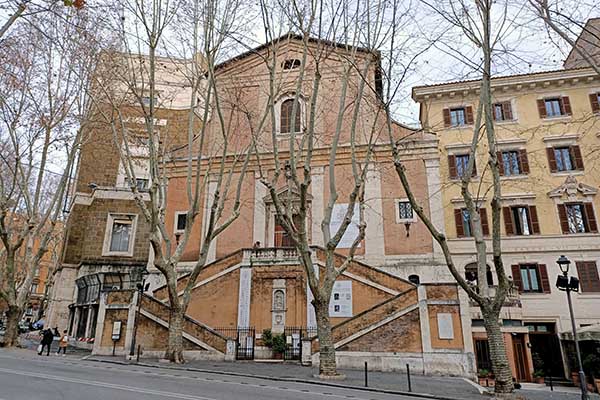 Known as "The Bone Church of Rome", the Crypts of the Capuchin Friars are best known for its amazing ossuary, a collection of thousands of human bones that have been used for the elaborate decoration of the walls and ceilings. 
The unusual crypt consists of six rooms connected by a corridor and features the skeletons of around 3700 friars, some of whom can be seen mummified still dressed in their capuchin habit. 
Of the six chambers, the Mass Chapel is the only one without bones. However, it does contain a relic: the heart of Maria Felice Peretti, and also the tomb of the Papal Zouaves. 
The remaining 5 chambers have been given evocative names such as: the Crypt of Skulls, the Crypt of Leg Bones and Thigh Bones, and the Crypt of Pelvises.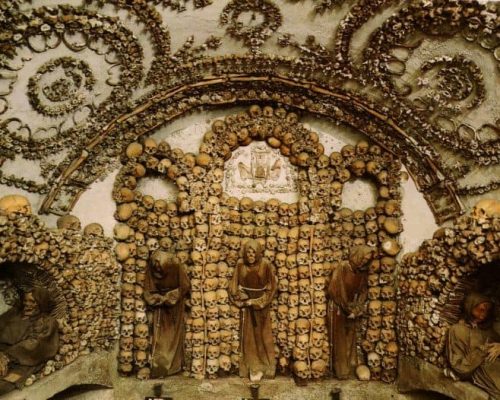 The crypts themselves date to the middle of the 17th century, however the remains came from monks who died between 1528 and 1870. When the Capuchins moved to the site in the 1630s, they brought with them the bones of many of their dead that had previously rested at a nearby convent. It is unknown at what point – and moreover WHY – somebody decided to transform the collection of skeletal remains into the artistic marvel that it is now. 
The Order emphasises that the crypts were once and still remain a solemn place of worship and reflection. Death and one's mortality may seem like a strange premise to explore on your holiday, however, it is not quite as morbid an experience as you would think. You might like to look at the crypts as a gentle reminder that life is beautiful and that beauty may penetrate the barrier of time and mortality.
In any case, this site can absolutely be appreciated for its intrinsic artistic value and historical interests by anyone who visits. For some people a visit to the Capuchin Crypt may be confronting or even a bit frightening, for many it is a deeply touching and spiritual experience. Regardless, it is a place that taps into the morbid curiosities of the human mind.