Staying Home for the Holidays
The new decree from Italy's Prime Minister Giuseppe Conte was announced on Thursday, 3 December.  This latest decree will be in effect from 4 December, 2020 – 15 January, 2021.  This decree sees the current restrictions regarding the colour code system (explained in our previous news post) remain in place with the 20 regions being divided into yellow, orange, and red classifications with varying degrees of limitations. The goal is to reach a national "yellow" classification by mid-december and stop a potential 3rd wave. 
The limitations to restaurants and bars remain unchanged at this stage. In "yellow" zones venues will be allowed to remain open until 18:00, even on days including: Christmas Day, St. Stephens Day, New Year's Day, and 6th Jan with a maximum of 4 people at each table.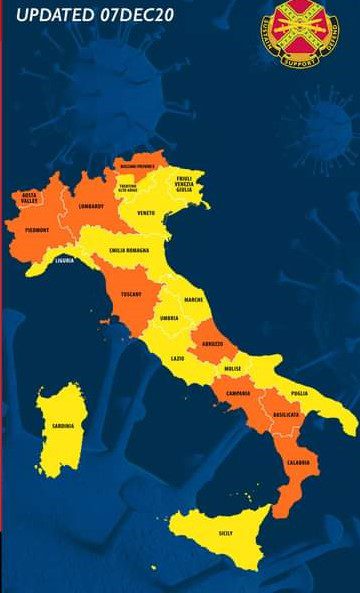 Museums, theatres, cinemas, and archaeological sites, along with Italian ski slopes will remain closed nationally over the festive period and throughout the timeframe of this decree.  Ski slopes may re-evaluate on 7 January.
The national curfew from 10pm – 5am will remain unchanged, with the exception of New Year's Day.  
There will be no travel between regions from 21 Dec – 6 Jan.  This is for all regions regardless of the colour classification.  Travel is permitted for reasons of work, health and necessity (in the case of providing assistance to those who need it). Travel to holiday residences will NOT be permitted.  
Midnight Mass in churches nationwide on Christmas Eve will be brought several hours forward so as to adhere to the 22:00 curfew.
On New Year's Eve/Day (the night of 31/12/20 to 1/1/21) the curfew period will be extended to 10pm – 7am.
Those travelling abroad over the Christmas period will be required to self-isolate for a 14 day period upon their return. Under the new decree it will be required for everyone arriving from countries in the EU or Schengen Zone to test negative for Covid-19 within 48 hours prior to entering Italy; an antibody (blood) test will not be sufficient.  Anyone arriving in Italy after the 21st December will also be required to self-isolate for the mandated period. 
For those arriving in Italy from outside the EU, a two week quarantine will be mandatory.  The exceptions to this include: flight crew, cross-border workers, healthcare staff, and people travelling through Italy for less than 36 hours for emergencies, as well as people travelling from the US on special 'Covid-tested flights'.
Before the 20th Dec: all travellers from the EU, Schengen Zone or UK must get tested before departure, or quarantine upon arrival. 
From 21st Dec – Jan 6th: everyone arriving in Italy from overseas MUSt quarantine for 14 days. 
7th Jan – 15th Jan:  all travellers from the EU, Schengen Zone or UK must get tested before departure, or quarantine upon arrival.