In the latest of a series of new decrees for slowing the spread of Covid-19 in Italy, PM Conte announced last week that as of 6 November Italy would be entering a "soft lockdown" until 3 December.  This means that the country will be divided into zones and each zone must follow a set of restrictions based on the rate of covid-19 infections within the zone.  This is in addition to the national rules that have been changed slightly as well.
There is a new nationwide curfew at 10pm, and all public transportation is reduced to 50% capacity (from 80%).  Also all museums and archaeological sites will remain closed, and shopping centers (malls) will be closed on weekends.
The zones are set up as red, orange and yellow with the following regions in their respective zones:
Red (high risk):  Lombardy, Calabria, Piedmont, Valle d'Aosta
Orange (medium risk):  Abruzzo, Basilicata, Liguria, Puglia, Sicily, Tuscany and Umbria
Yellow (low risk):  All other regions…Abruzzo, Basilicata, Campania, Emilia-Romagna, Friuli-Venezia Giulia, Lazio, Liguria, Marche, Molise, Sardinia, Tuscany, Umbria, Veneto and Trentino-Alto-Adige
*within the yellow and orange zones, there may be municipalities declared as red zones individually*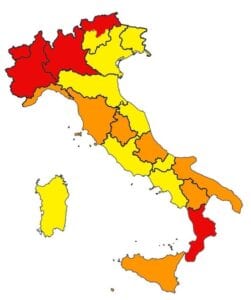 Rules for each zone are as follows:
Subject to the national restrictions.
Subject to the national restrictions and…
Travel to and from these regions and to and from individual municipalities is not allowed unless for essential reasons.

All restaurants, bars, cafes and food businesses must remain closed, but can provide delivery and takeaway services until the 10pm curfew.  

Shops including hairdressers and bookshops can remain open.
Must follow all of the restrictions of the other two zones as well as…
People are not allowed to move around within their own area unless for essential reasons.

Leaving your home must be for only essential reasons such as work, study, health or emergency reasons.

All businesses deemed non essential are to remain closed. Only supermarkets, tabacchi, food shops, hairdressers, book stores and stationery stores may remain open. (restaurants can continue delivery services)
These new restrictions will continue to be evaluated every 15 days and adjusted based on the rate of covid-19 cases throughout the country.  We expect a new decree by 3 December and remain hopeful for the Christmas season.